About Efficient Foam
Efficient Foam was established in 2007. Tony Verhey has been an insulator for 20 years and takes pride in the work he does. Tony has worked for Efficient Foam for 7 years and is now the owner of the business. Efficient Foam is based out of Kimball, Minnesota. We are here to help you build a healthier and greener building or addition. The insulation you choose has a big influence on your budget for heating and cooling. We can advise you on the best product for your application. In order to provide the best solution for your insulation needs, Efficient Foam has done extensive research on Building Envelope, R-Value, mold prevention, air infiltration and insect infestation.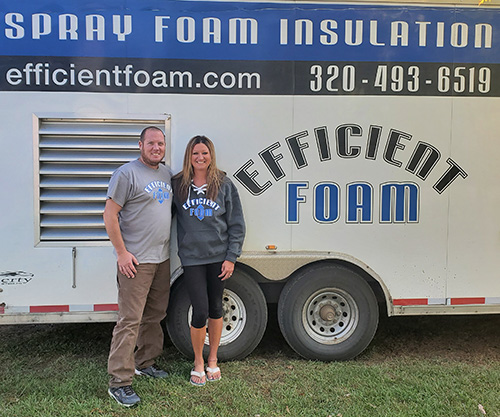 Tony and Mel Verhey – Owners
What sets Efficient Foam apart?
You will have a dedicated team for all projects
Estimates are provided quickly
We strive to be courteous and professional
We are highly flexible
We are experienced and knowledgeable